By Andy the stuff doer
There's some stuff I've done recently that I had the foresight to photograph but never got around to posting.
Here a quick taster of a couple-
Making a Giant enter Key for the Launch of the Chesterfield Post.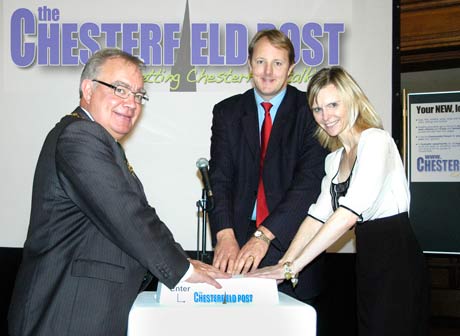 His Worship The Mayor Cllr Keith Morgan, Toby Perkins MP and Karen Johnson, Editor-In-Chief of the Chesterfield Post, press the 'Enter' button to officially launch the website
(The Chesterfield Post is an on-line "local newspaper" . It's a great source for local news and fantastic place for local business in the Chesterfield area to advertise. Take a look at The Chesterfield Post.)
It's been a while since I made models out of foam. This job took me back to my old polytechnic days as an industrial designer 25ish years ago.
From a block of insulation foam to a key for the local MP and Mayor to push. Ask me about this, leave me a comment and I get around to adding the detail sooner rather than latter.
Fixing Our Ideal Isar Boiler.
What a pile of poorley designed near junk this boiler has turned out to be. Virtually every component that could be cost reduced below a reasonable working standard has been.
Apart from regular flame failures it does a least work now with out any leaks.
I though this was worth recording as it involve a bit a redesign and modification that saved me fair bit of money.
The plastic manifold that attaches to the hot water heat exchanger had degraded and cracked. This simple solution puts a copper pipe straight through the manifold right upto the seal on heat exchanger. Result. But the flame failure problem is starting to get anoying especially at shower time so its still on the list.
UPDATE – The control board has gone again. So time to bite the bullet and get a new boiler. I've managed to keep it running  for a good few years at minimal cost but now I've given up. It's not worth the time, money and hassle anymore.